WE INVITE NEW MEMBERS TO JOIN US!
The best way to contact us is:-
mayfieldheritage@gmail.com
We welcome visitors to our village.
This picture shows Felicity Taylor and Geraldine Holland discussing with our researchers (Pat and Pat) their grandfather Leonard Lownds, a Mayfield man who lost his life in the First World War. The sisters had travelled here from Middlesex and Buckinghamshire. They have since written:
I would like to add my sincere thanks to you all for making our visit to Mayfield such an interesting and enjoyable one and for making us feel so welcome. It was so very kind of you to prepare such detailed information for us and it was a delight to hear that you actually knew members of the family, Mabel and Nora.
Our dear mum, who passed away some years ago now, spoke with such love and affection for her father and it was wonderful for us to have been able to visit beautiful Mayfield.
We visit places of interest.
We marked the centenary year of Moorcroft Pottery in one of our 2013 Well Dressing designs and in November 2013 we had a fascinating guided tour of Moorcroft's factory in Burslem.
In March 2014 we visited a factory on our doorstep, Mayfield Mill, and were treated to an absorbing tour. Situated on a site that was a water-powered corn mill 700 years ago and has had several reincarnations over the centuries, Mayfield Yarns now employs 87 local people in the manufacture of many different types of man-made fibres for use in such diverse applications as vehicle airbags, parachutes and bullet-proof vests.
In May 2014, we entertained a group of visitors from Ashbourne U3A to a tour of Church Mayfield and The Terrace led by our historian Mr Pat Smith.
He showed us parts of our historic parish church that are unusual and of particular architectural or religious significance.
With kind permission of the management of Mayfield Yarns, he took us into the mill yard and showed us the leat.
Adjoining the factory premises are extensive lawns, once the gardens of Mayfield House, the superb home of the Simpson family who owned the mill from 1866 onwards.
Mayfield House is a Grade II listed building.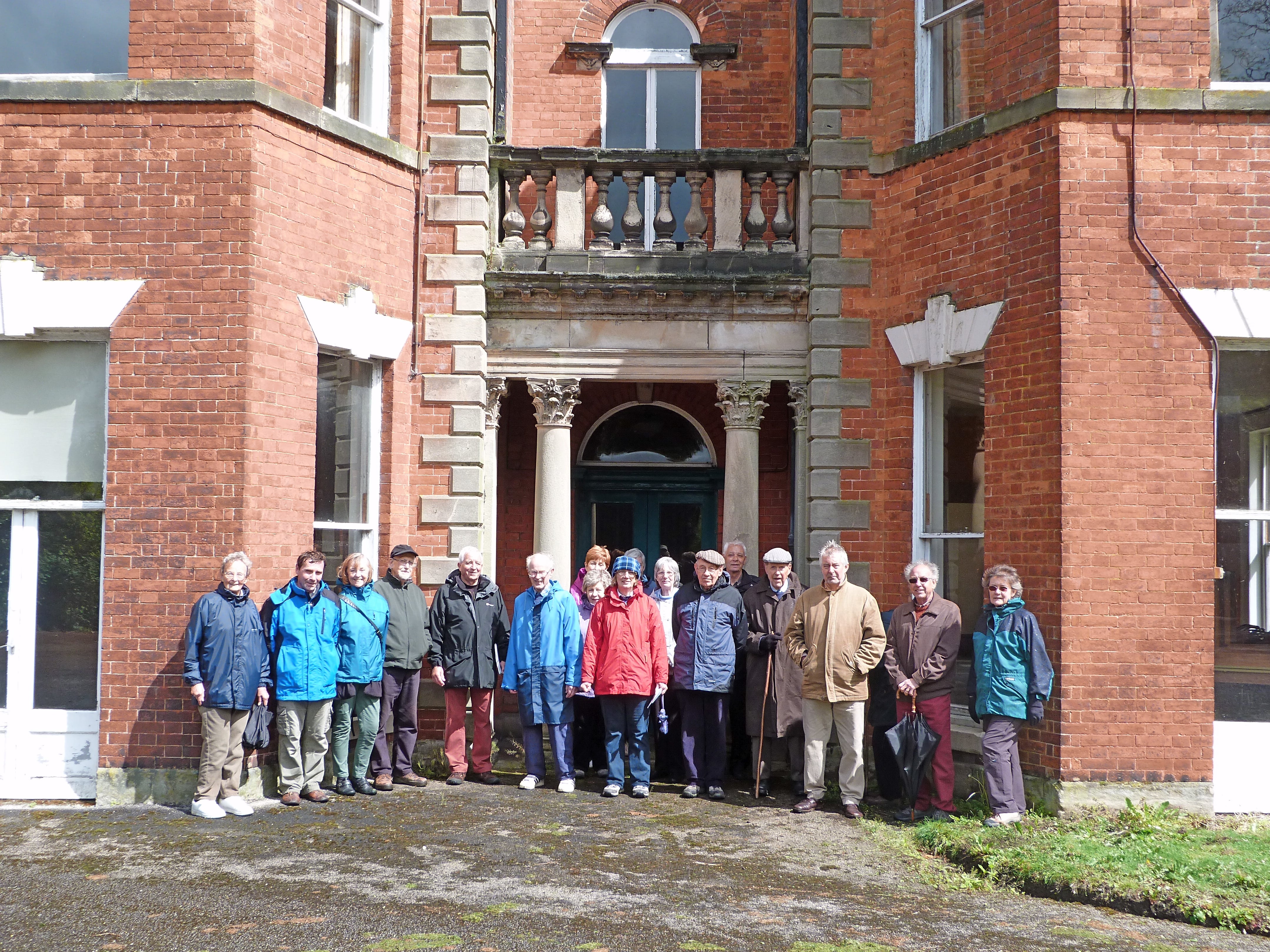 It formed the perfect background for a souvenir photograph.