Mayfields Around The World
We are interested to hear from towns, village and settlements around the world that share our name. If you would like to make contact with us please do by emailing us at mayfieldheritage@gmail.com. We are happy to share information on our village along with making friends around the world.
Our first contact has been Mayfield Village in Ohio state USA. Below is information on the village along with links with more detail.
Mayfield, Ohio, USA
Mayfield is a village in Cuyahoga County, Ohio, United States. The village is officially named Mayfield, but is commonly referred to as Mayfield Village. Mayfield Village was originally part of Mayfield Township and is now a suburb of Cleveland. The population was 3,460 at the 2010 census. [Wikipedia article]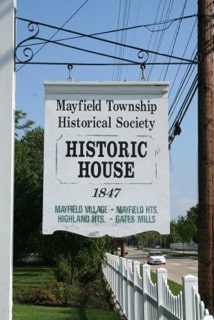 The lower level of the house has a Log Cabin, School Room, Tool Room, and Print Shop. The Museum also has an extensive historical reference and genealogical library for public use. Each year Mayfield School district 3rd Graders tour the Museum as part of the current Ohio curriculum.
More information can be found on the Mayfield Village website
https://www.mayfieldvillage.com/residents/associations-organizations/historical-society
The Village created a document to celebrate their sesquicentennial. To view Mayfield Village's Sesquicentennial book for a look back at the history of the Village, click here.